Biergarten, Karaoke, & Deed's Most Productive Week Yet
Inside our first company-wide retreat.
It's been one month since we flew our team out to Deed's Berlin HQ for a week of intense collaboration, searching conversations, and unforgettable memories. Now that I've had enough time to reflect on all the incredible experiences we had together, I wanted to share some of the thoughts behind our retreat.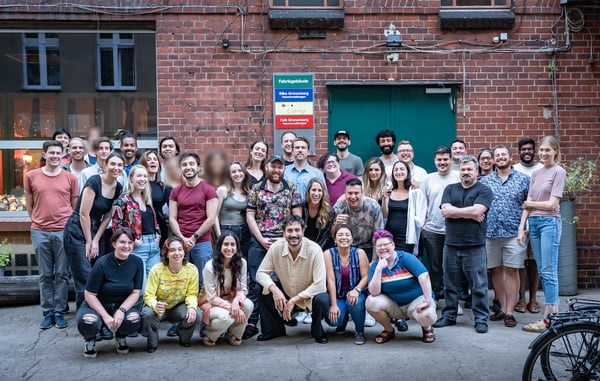 This was a moment I'd been looking forward to since we founded Deed. We were a hybrid company long before the COVID-19 pandemic made it a necessity. I was based in Brooklyn. Aske Ertmann, our technical Co-Founder, was in Berlin. Steve Liu, our third Co-Founder was in London. Before raising our seed round, we were fully remote, with our founding team members scattered throughout the world—which happened to position us well to better support multinational companies across time zones.
Every team member seems to have an incredible story from the retreat. I'm still hearing new ones every day. Alessandro Grena's is particularly cool to me. As our head of design, Ale puts tremendous thought and care into every aspect of Deed's look and feel, from our product to our website, and even our letterhead.
After we raised our Series A last year, Ale and his team found themselves with a new challenge. We tripled in size in just a few months. As we started working with more and larger Fortune 500s, it quickly became the design team's mission to synergize many differing points of view—from partner success to product, from marketing to sales—into one cohesive brand identity.
This is a difficult challenge for two reasons. First, fast-growing tech companies always have to balance many equally important but parallel priorities. For Ale and the design team, that meant learning how to switch contexts fast. (Thankfully, they've gotten really good at it.)
Second, Berlin is six hours ahead of New York—which means that their ongoing conversations with multiple stakeholders about Deed's evolving look and feel has tested the limits of their Google calendars.
Our first company-wide retreat in Berlin gave the design team the chance to host an in-person brand workshop. There, Ale and the team brushed shoulders with so many colleagues for the first time, put faces to Zoom images, and did the work of two days of meetings in the span of one hour.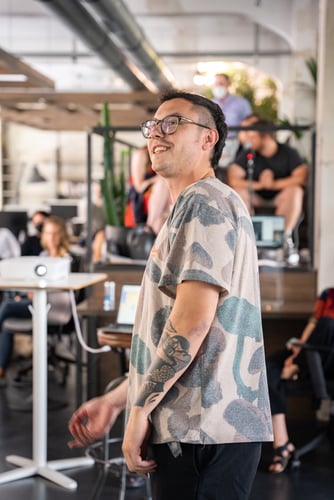 Theirs is just one example of all the incredible working relationships across our NYC, Berlin, and SF headquarters (plus our remote hubs around the world). Before last month, we'd never had the freedom to dedicate time for the entire team to meet face-to-face, strengthen our existing bonds, form new ones, and imagine the future of social impact together.
I want to share some of my favorite moments from our retreat. I mentioned this was something I'd been looking forward to since we founded Deed. But from canoeing in the Spree, to biking and scootering from the office to team dinners together in a giant mobile "caravan", our week in Berlin far exceeded anything I could have anticipated. I hope these photos can help us and our community feel that excitement for a long time. Enjoy.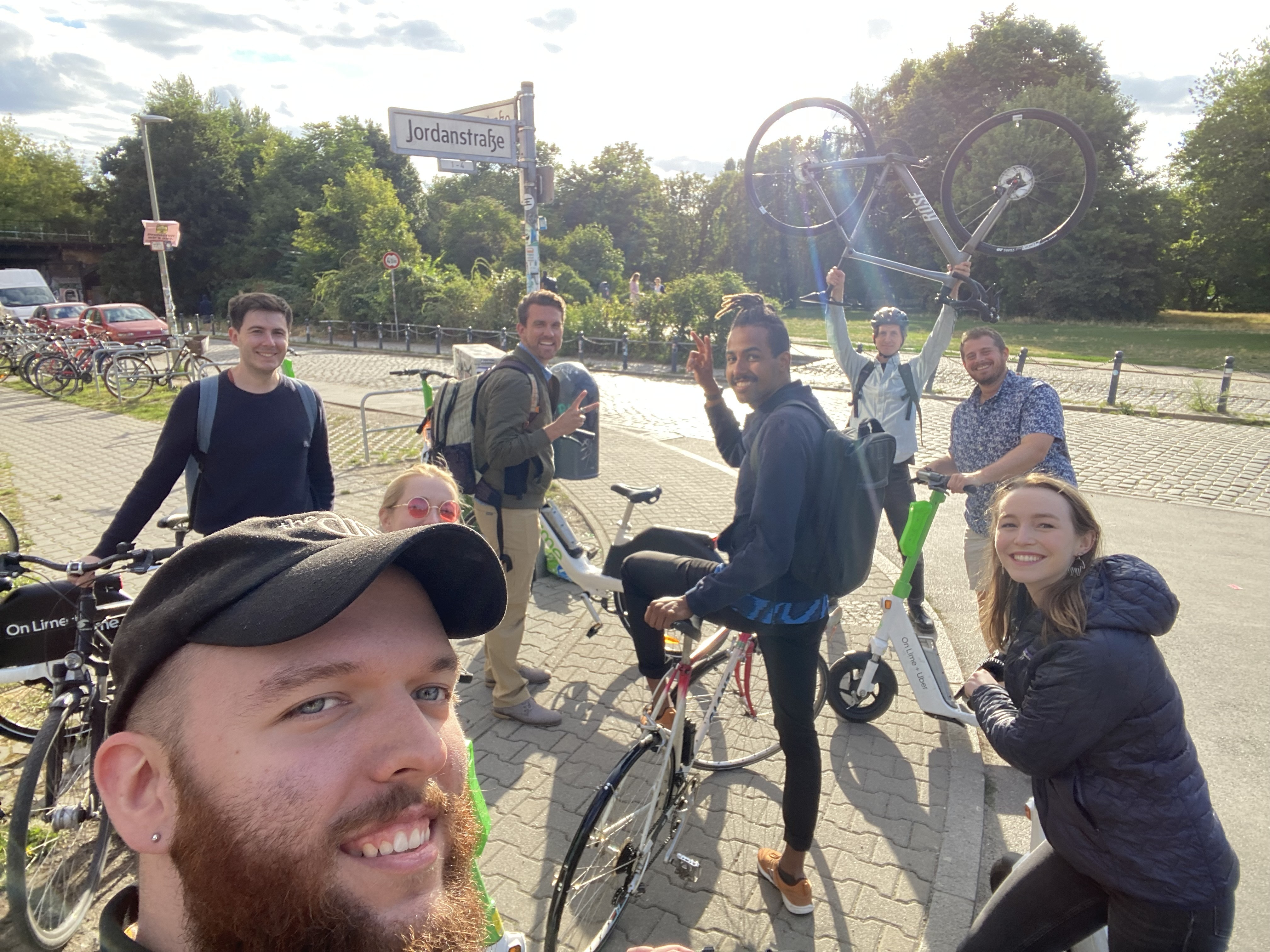 I'm grateful to our partners from Airbnb, Kyndryl, and o9 Solutions for flying out to participate in Deed's first expert panel, "Where Competition Ends: A Roundtable Exploring Our Collective Response to the World's Most Pressing Issues." It was a thrill to moderate such a thought-provoking conversation. (ICYMI, here are "Three Memorable Quotes from 'Where Competition Ends.'")
Before the panel, Kate, Dominic, and Carlos joined our partner success and product teams—as they met for the first time in person—to roll their sleeves up in collaborative strategy and product workshops.
The plan was simple. Before his big demo one afternoon, our VP of sales Chad Haertling would spend a relaxing morning with the team canoeing in the Spree off Treptower Park. It was an idyllic day—the sun was shining, there weren't many other boats on the water, the park was full of people. We all had a great time. Then, as we were leisurely making our way back to the dock, Zuzana Velika, our extraordinary People Ops & Talent Partner who orchestrated the whole retreat—and the skipper of mine and Chad's canoe—realized we were missing a paddle. We had to turn around. Zee thought we must have left it on the shoreline where we'd stopped for pretzels. The rest of the team rowed into the shade while Zee, Chad, and I went looking.
But our search took too long. By the time we found the paddle—right where Zee thought it would be—Chad had just thirty minutes to get to his demo.
Chad spotted a familiar bridge down the Spree, and assured us, then reassured us against our hesitation to maroon a colleague, that the only way to get him to his demo on time was to drop him off. So we did—and he made it with seconds to spare. Imagine the team's surprise when two of us came sailing back instead of three. Meanwhile, in typical Chad style, the demo went perfectly.
On the first day, the team went "plogging," which is a great way to use volunteering both to do good for the community and for its physical and mental health benefits.
We would encourage more fast-growing tech companies to dedicate the not-insignificant time and resources needed for a retreat as valuable as ours was.
Team Deed is as curious, driven, and thoughtful a group as any leader could hope for. It's been amazing to watch the relationships and ideas continue to flourish and come to life since the retreat. I can't wait for next year!
Does this sound like fun to you? You can imagine that after the team posted their memories on social media, many received messages from curious friends and colleagues asking if Deed is hiring. If you are looking for a social impact tech company that will go the extra mile (or four thousand…), then we'd love to talk to you. Check out our Careers page—and follow our culture Instagram, @lifeatdeed—to see what excites you.
There is a serendipity to the timing of the retreat and the latest news we broke on our product vision. We just announced our most ambitious feature yet: Communities. Many of our partners expressed the need for a place like Communities, where together, innovating side-by-side, Deed could help them enrich employees' experience in the workplace, based on our mutual understanding that people want to feel a greater sense of belonging and purpose. Companies have intuited this point for a long time, but before Communities they lacked the venue.
Now, companies and nonprofits can meet in one place, scaling their impact through collaboration on a platform unprecedented in its ease-of-use and seamless integration into their social impact program. Designed by a team who understands that collaboration takes constant effort, Communities are built to foster togetherness by grounding our efforts in a greater purpose.
Deed's continued success is the natural result of our team's desire to find new and exciting ways to do good—and Communities is just the beginning. Watch this space for more updates coming very soon.
By the way, how many CEOs have flown to Berlin to sing "No Diggity" with their team in front of a dive bar full of strangers?