Nonprofit to Watch: Interview with First Tech Fund
Meet First Tech Fund: empowering underserved and low-income students with opportunities to succeed in the modern world.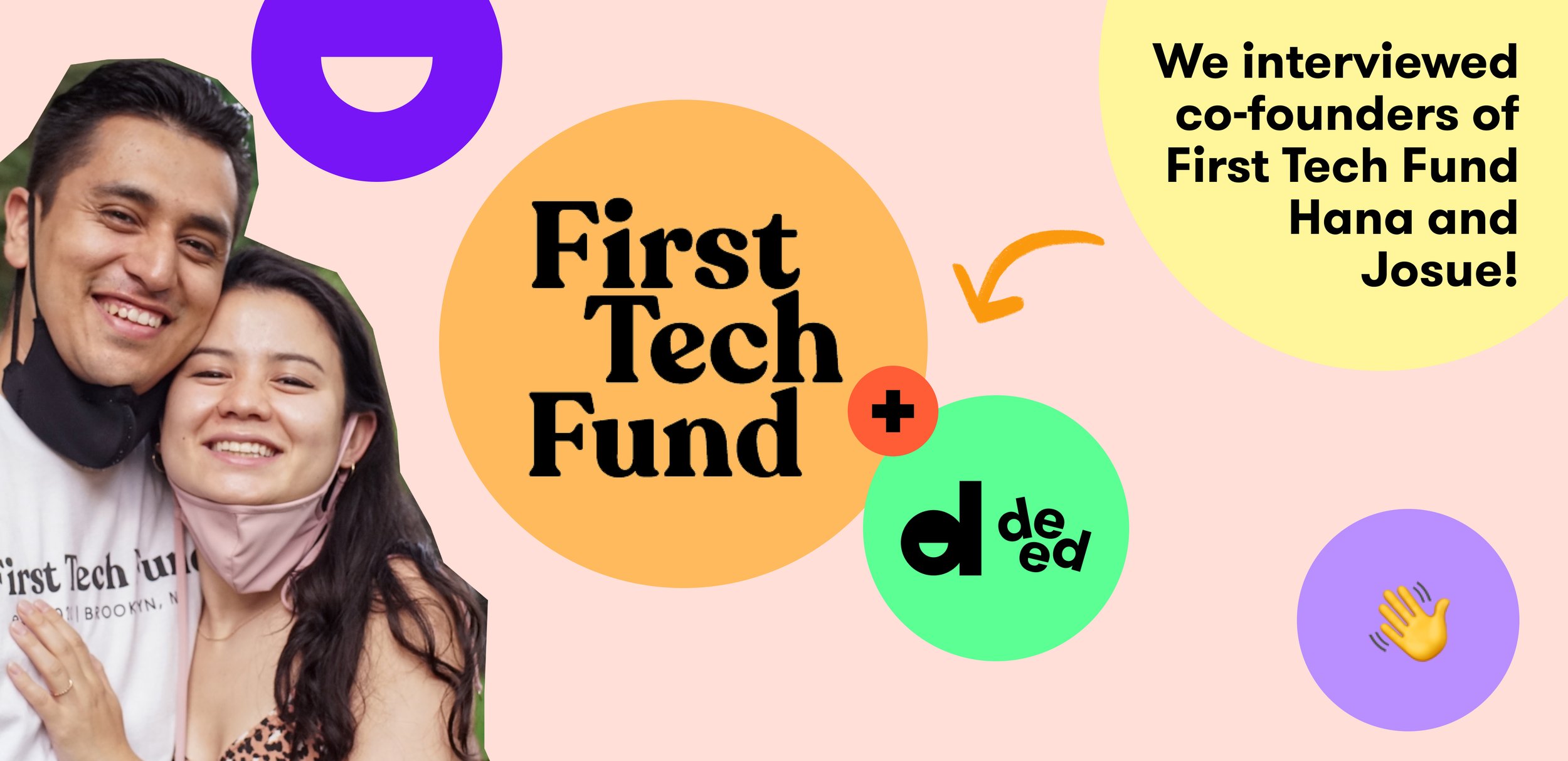 First Tech Fund's mission is to empower students of underserved and low-income backgrounds with technology, connectivity, practical skills, and opportunities to succeed in the modern world. We serve the New York City community of high school students with tech access, mentorship and the ability to join virtual programming that gives them digital and professional skills. They give high school students the seed investment they need to accomplish their academic goals and personal dreams.
We were fortunate to connect with co-founders Josue De Paz and Hana Seligman to learn more about First Tech Fund and their connection to social good.
What inspired you to start First Tech Fund?
Our organization was founded in May 2020, during the COVID-19 pandemic, which amplified the pre-existing inequalities in technology access and education, especially for communities of color across America. Twenty percent of households in the NY metro area don't have high-speed internet, and 750K students live in those households. Compounding this lack of technology and connectivity is a lack of access to information, mentorship, and opportunities in low-income areas which inspired us to take action in our local community of New York City. Josue has lived the experiences of the students he's serving – hailing from a single parent household that lived under the poverty line and struggled to get by. He saw how hard his mom worked to get him technology that eventually fueled his success. Hana comes from grandparents who were life-long NYC educators and strives to continue spreading their compassionate energy in the city that shaped her.
What was something you didn't expect as a part of your work with First Tech Fund?
We knew the problem was really big in NYC, but we didn't expect to get as many applications as we did – over 750 students applied in English and Spanish and even more reached out who weren't eligible from the tri-state area. In addition to high school students, we had K-8 students, college students, and young adults all reach out to be part of our program. It was the hardest part of launching and running a nonprofit because we saw so many qualified, talented students who wanted a shot at keeping up with their studies and we wanted to help them all. Not being able to help all the students was personally hard for both of us and tough on the organization, but it motivates us to raise as much as we can so that we can impact many more students across NYC and one day, across the country.
How can individuals volunteer / what are the volunteering opportunities with First Tech Fund?
First Tech Fund has volunteers supporting us by doing things like working on creative materials for our social media accounts and partnership outreach, helping us fundraise through their friends and family and mentoring students in our program with their specialized skills and expertise in particular industries of work. We also have 3 separate boards -- our Board of Directors advises on long-term strategy and has governance responsibilities for the organization, our Advisory Board helps us on ad-hoc projects and gives us strategic advice, and our junior board helps drive the day to day work of the organization through our marketing, programming, and fundraising committees. We also recruit speakers for our panels which have covered tech, law, finance, healthcare, entrepreneurship as well as other industries and we always try to center BIPOC voices, given 100% of our students identify as BIPOC. We're constantly looking for new talent to connect with our students!
What has been your experience working with Deed, and has Deed supported First Tech Fund in your goals?
Deed has been a wonderful partner for First Tech Fund – from offering suggestions on where to find new supporters to helping connect us to community partners that have shared expertise or in-kind donations with us, it's really moved the needle for our organization and has made an outsized impact on our work and on our community.
Can you tell us one story in particular that made you feel proud to work for your organization?
One of our students, Aissatou, is a junior from Brooklyn who recently immigrated to the US from Guinea. In addition to taking a number of AP classes and college courses, Aissatou was helping 3 of her siblings with school and homework, while helping her parents with the household chores, while they worked. During the pandemic, she was doing homework on her cell phone so that her younger siblings could dial into remote learning and not fall behind using the one computer the family had. When we provided her a laptop and WiFi access, not only was she able to do all her assignments on time and with more ease, but she was better able to help her siblings with their work. She let us know that all 5 of her siblings used the WiFi we provided for school & that with the support of her mentor, she was able to get into Questbridge, one of the most prestigious programs in the country. There are so many students who we work with who just needed an opportunity and when they get it, they maximized their potential to the fullest.
Donating to First Tech Fund can help students like Aissatou. Donate on Deed today!
How do you see First Tech Fund growing in the next few years, and what is your strategy for reaching those goals?
This year, we're raising the number of seats in our program from 52 to 85 to accommodate more students and we're onboarding more mentors to help support students. Over the next 5 years, we hope to serve 1,000+ students through our programming and hope to have 100% high school graduation rates across all of our students. We're working on building capacity now to make sure that we can support more students and equip them with the tools that they need to thrive in 21st century opportunities. As part of our long-term strategy, we'd also like to grow our footprint in other cities in the United States and we plan to recruit nonprofit and for-profit partners to help us launch a pilot program in Los Angeles in 2023. Stay tuned!
When was the first time you volunteered? What did you do?
Hana: I volunteered in high school at the Japanese school I attended as a child, helping with events and teaching younger students Japanese. Education has been a core value for my family for generations – Growing up going to Saturday school for my second culture and language for 10+ years and then volunteering there taught me how to cater to different student's needs and academic levels.
Josue: My high school was very big on service – our motto was "men for others". At the start of 9th grade, we were offered an opportunity to mentor 8th graders who were preparing for the high school placement exam to try and test into my school. That was one of the first instances that I remember doing volunteer work. Throughout my 4 years at Loyola, I had the honor and privilege of doing volunteer work at Skid Row, at women's shelters, at special education high schools, and in New Orleans after Hurricane Katrina.
If you were a fictional character, who would you be and why?
Hana: I am 100% Buttercup from the Powerpuff Girls – she's small and unassuming on the outside, but puts on a tough fight and shows no fear whenever she has to save her community from a villain. I love the passion to fight for what's right while having fun along the way.
Josue: I'd have to go with Batman because for 4-5 Halloweens in a row, I dressed up like him as a kid and as an adult, I loved the entire Dark Knight trilogy. As a nonprofit CEO, I wouldn't mind having Bruce Wayne cash reserves in order to fund my programs!
Want to continue doing good? With Deed, there are endless opportunities to engage employees for volunteering or giving to over 2 million nonprofits globally including First Tech Fund. Check out additional opportunities and request a demo if you're not on Deed already!