2022: A Year of Good Deeds
Inside Deed's growing community and collective impact
Through giving, volunteering, and sharing their skills with nonprofits around the world, our partners' employees were able to make an incredible impact in 2022. Here's a look at some of the highlights:
SEE OUR 2022 IMPACT: A YEAR OF GOOD DEEDS
In a year of unprecedented adversity, Deed's community made a real difference. See it here: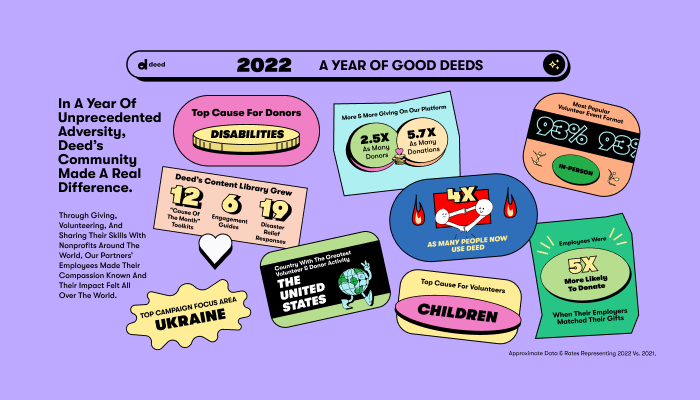 OUR GROWING COMMUNITY
Deed welcomed our 2022 class of new partners, whose huge crowd of employees have helped us bring 4X as many users onto our platform as last year.


IN UKRAINE AND AROUND THE WORLD, A STRONGER CONTENT LIBRARY MEANT MORE CAMPAIGNS
Our partners ran an incredible amount of campaigns this year, which drew inspiration from Deed's 12 "Cause of the Month" toolkits (Think: Pride for June, Civics for November. If you haven't already, you should check them out.), Six Engagement Guides, 19 Disaster Relief Responses, and Awareness Day content on social media.
Their top campaign focus area? Ukraine

TOP CAUSE FOR DONORS: DISABILITIES
Followed by: Education, Animals, Disaster Recovery, and Environment

MORE AND MORE GIVING ON OUR PLATFORM
There were
2.5X as many donors
and a
5.7X increase
in donations made through the platform (compared with 2021).
MATCHED DONATIONS = MORE ENTHUSIASTIC GIVING
Company-backed matches matter. Our data shows that employees were approximately 5X more likely to donate when their employers matched their gifts.


TOP CAUSE FOR VOLUNTEERS: CHILDREN
Followed by: Education, Environment, Food Action, and Health
BEST #GIVINGTUESDAY ON RECORD
Deed had an especially strong GivingTuesday this year, with a
14X increase in total dollars donated
, and a
3.7X jump
in both the
number of employee donors and their gifts
.
MOST POPULAR EVENT FORMAT: IN-PERSON
Volunteers overwhelmingly opted for in-person events, which accounted for 93 percent of all volunteering activity logged on Deed this year.


TOP COUNTRY BY DONORS AND VOLUNTEERS: THE UNITED STATES
Followed by: The United Kingdom, Germany, Ukraine, and Switzerland
WHY 2022 WAS A YEAR OF GOOD DEEDS
None of this would have been possible without the incredible generosity and enthusiasm of our partners and their employees. These results make us that much more excited for 2023, and we can't wait to tell you about all the new product features and services we've got planned to continue raising the bar.
Deed is a workplace giving and volunteering platform that puts people first, because user experience shouldn't stand between you and doing good. We foster genuine human connection across departments and time zones by empowering employees to support causes they care about together, both in-person and online.
We help social impact and DEIB teams alike to centralize all their programming, from emergency fundraisers to fun volunteering events, and engage diverse employee resource groups. Everyone's passion can be met; Deed showcases over two million nonprofits and counting. Our vast payment infrastructure is backed by trusted names like PayPal, who securely process billions in donations per year—to help you give with ease and confidence.
Now imagine all your community's good deeds happening on a single, exceptionally designed platform—with you at the switchboard, watching an enterprise transform into a more positive force in the world.