5 Nonprofits to Support on Juneteenth
Each year on June 19, the United States acknowledges the abolition of slavery. Now a federal holiday, Juneteenth is a time to remember the hardship endured by our African American ancestors, and to redouble our commitment to lasting equity today.
For years after President Abraham Lincoln's Emancipation Proclamation liberated slaves in Confederate states, and for months after the official end of the Civil War, many slave owners continued to flaunt United States law, neglecting to inform slaves of their freedom. It wasn't until the 13th Amendment was ratified in December 6, 1865 that slavery was officially and finally outlawed in the United States. That day may have never come, however, if it weren't for Major General Gordon Granger's actions on June 19.
Six months before ratification, Granger had led his troops to Galveston, Texas, to announce that the Civil War was over, that the Union had won, and that the federal government could now enforce the end of slavery in Texas and every state in the nation. The nonprofit National Museum of African American History and Culture reminds us that, upon his arrival, Grander read out General Order No. 3, informing the residents that all enslaved people would henceforth be treated as hired workers if they chose to remain on the plantations, but that they were under no obligation to do so.
Celebrated in Black communities throughout the U.S., Juneteenth is a time to remember the past and prepare for the future.
For Juneteenth this year (Monday, June 19), we invite you to raise awareness and activate your communities on Deed. Several standout nonprofits that advocate for civil rights and advancement year-round can be found below. For more volunteering, donation, and employee engagement ideas, revisit our Cause of the Month: Black History Month 2023 toolkit.
We would also like to draw special attention to our list of Actions, a new feature that empowers employees to perform small acts of kindness, like attending a Juneteenth community discussion, and be rewarded for their effort with a company donation. Request a demo of Actions today to see how Deed's all-in-one corporate volunteerism, donations, and grant-making platform can help you engage employees to make a difference.
5 Nonprofits to Support on Juneteenth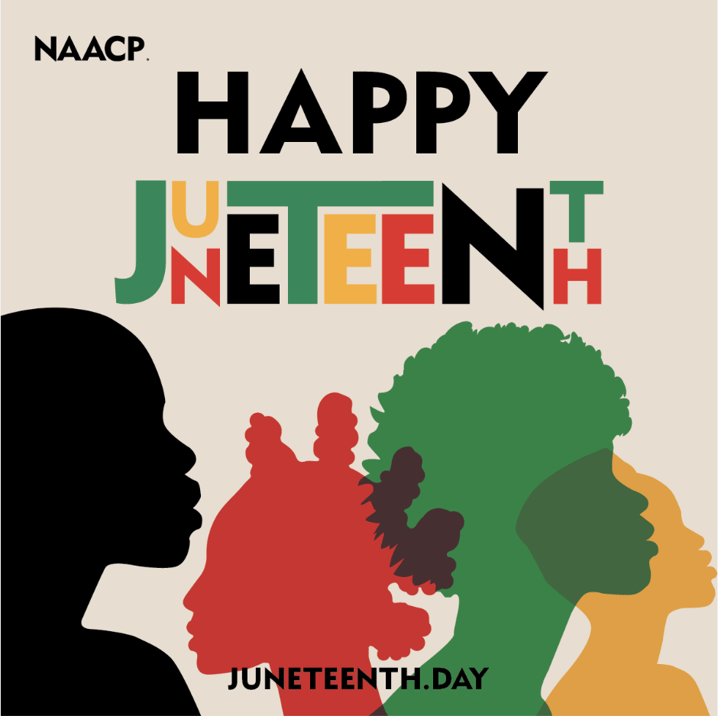 The NAACP's mission is to achieve equity, political rights, and social inclusion by advancing policies and practices that expand human and civil rights, eliminate discrimination, and accelerate the wellbeing, education, and economic security of Black people and all persons of color.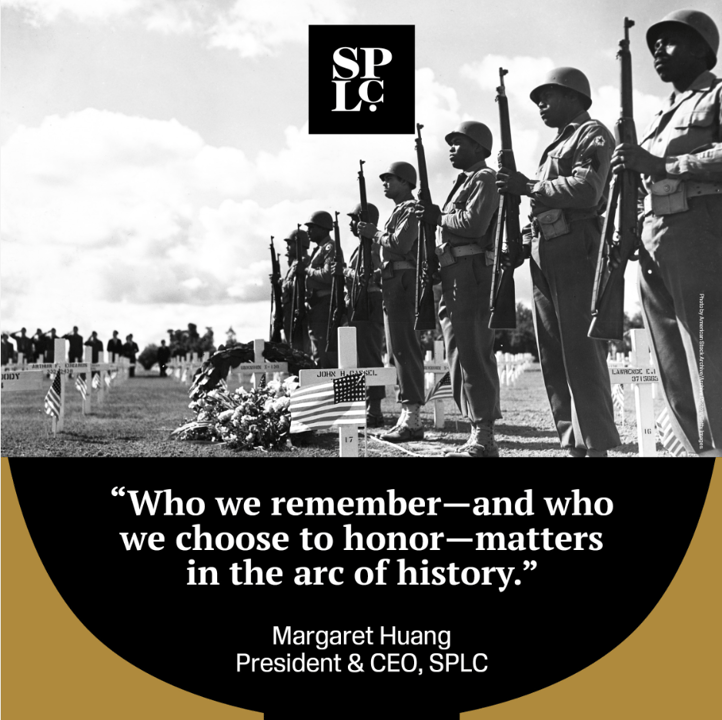 The SPLC is internationally known for its tolerance education programs, its legal victories against white supremacists and its tracking of hate groups. Throughout its history, SPLC has worked to make the nation's Constitutional ideals a reality. The organization fights all forms of discrimination and works to protect society's most vulnerable members.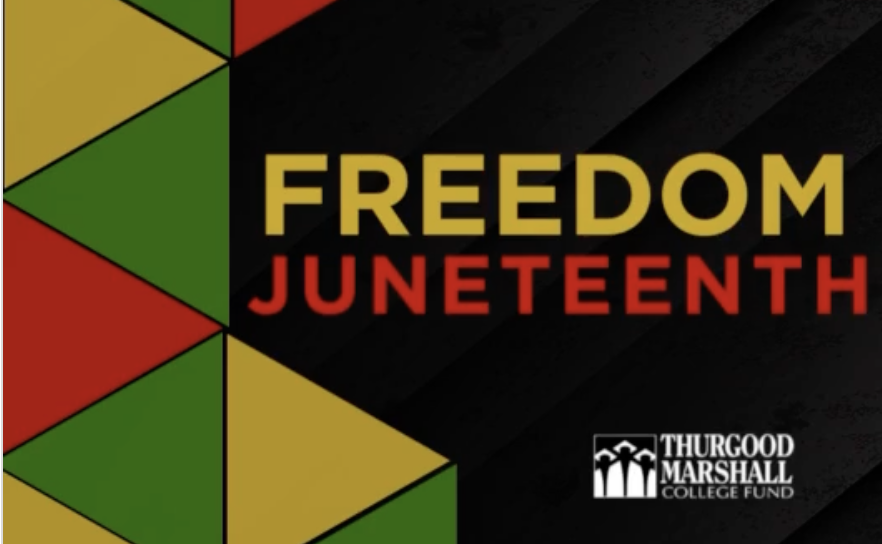 Thurgood Marshall College Fund supports and represents nearly 300,000 students attending its 47 member-schools that include public historically black colleges and universities (HBCUs), medical schools, and law schools. Its mission is to ensure student success by promoting educational excellence and preparing the next generation of workforce talent through leadership development.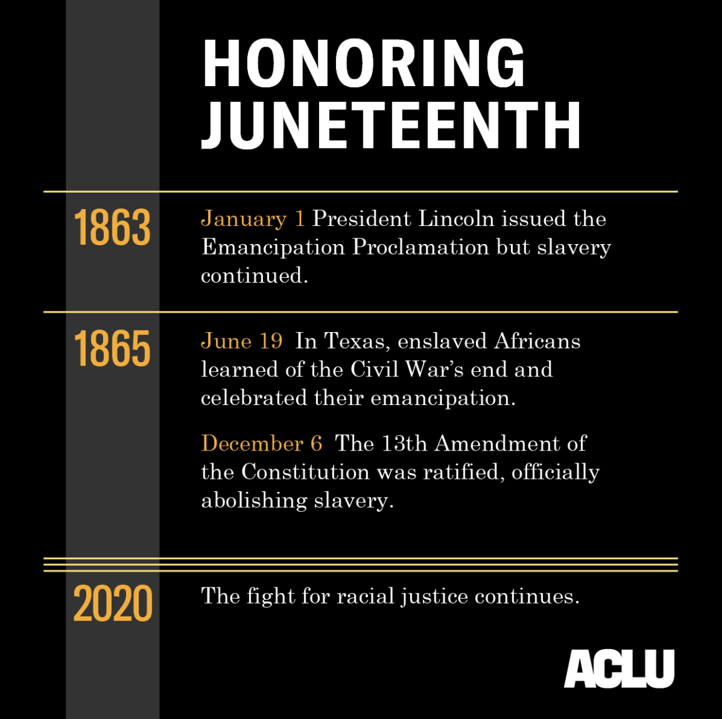 The American Civil Liberties Union Foundation is the arm of the ACLU that conducts litigation and communication efforts. The foundation provides legal presentation in cases involving issues of civil liberties and constitutional rights ranging from administrative hearings to trials and appeals. In addition, the foundation educates the public as to civil liberties and constitutional rights by disseminating literature and other publications. The ACLU Foundation preserves and promotes civil rights and liberties as guaranteed by the United States Constitution.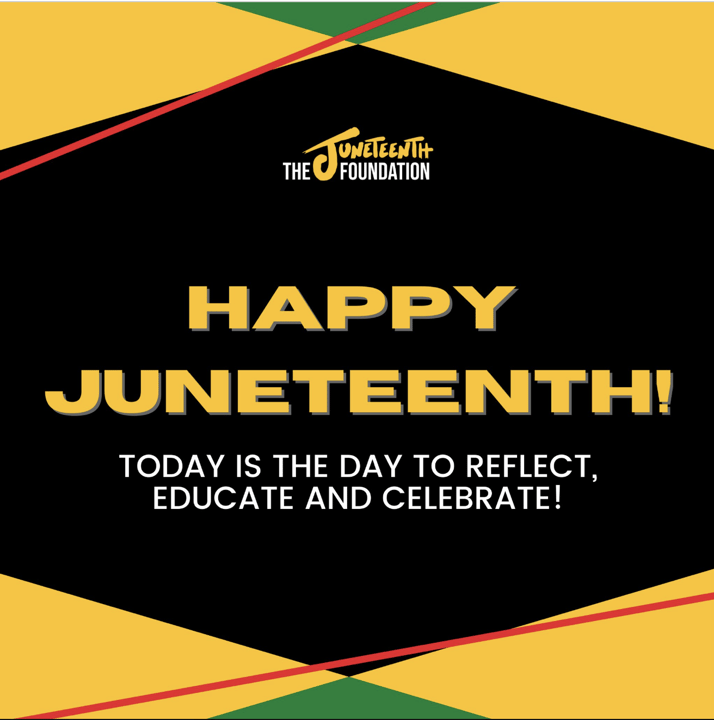 Recognizing the significance of Juneteenth, The Juneteenth Foundation works to champion corporate and citizen engagement for healing and advocacy for Black Americans. Throughout the year, they foster relationships with a variety of organizations and individuals to make their mission a reality, annually they pioneer four main initiatives geared towards creating awareness and promoting Juneteenth.
Preview: Actions for Juneteenth
Actions are a new feature that empowers employees to perform small acts of kindness—like learning about the history of Juneteenth—and for your company to reward them for their effort with a donation to a nonprofit.
We hope you'll agree this is an exciting way to build a purpose-minded culture at your company, while deepening your relationship with the nonprofit community and maximizing our collective impact.
Here's how Actions look in practice: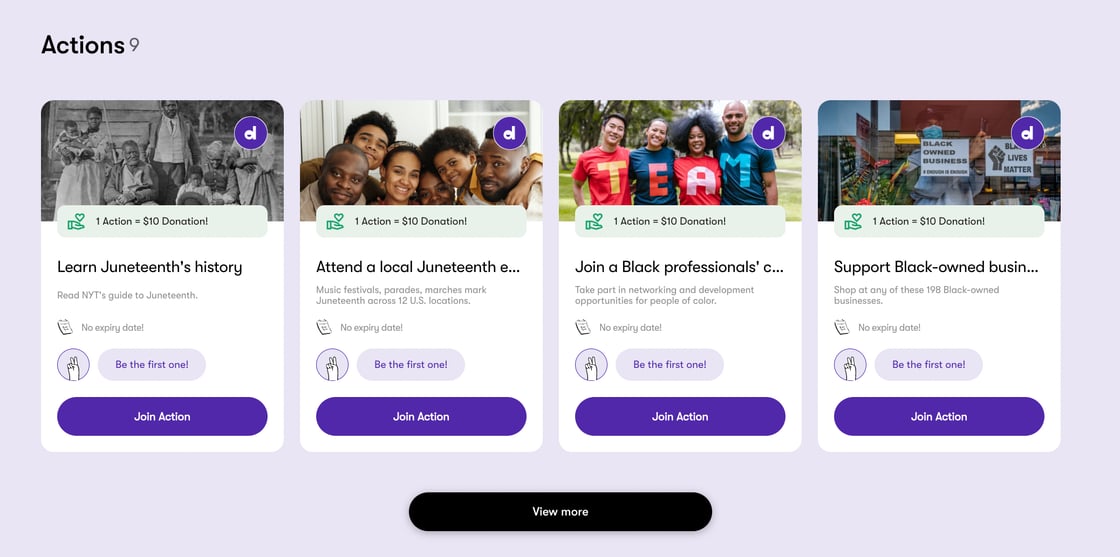 Actions can include a number of employee and employee resource group (ERG) engagement activities, such as:
Learn Juneteenth's history
Attend a local Juneteenth event
Join a Black professionals' community
Support Black-owned businesses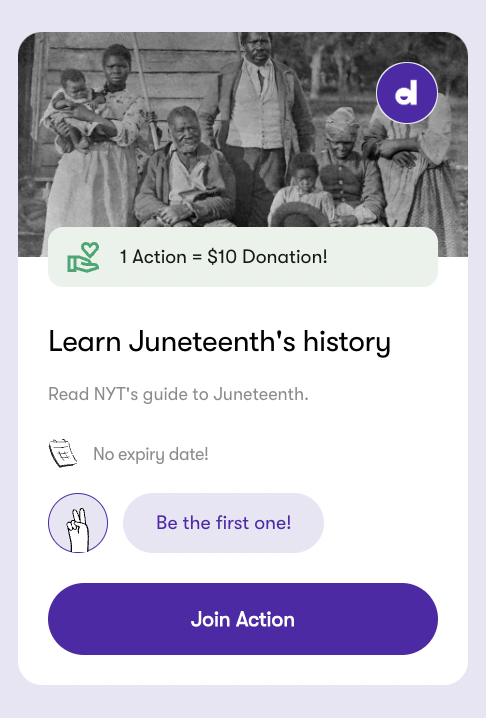 Once you select the Action you'd like to perform, you'll see a brief description of what to do next. For educating ourselves about the history of Juneteenth, we recommend reading The New York Times' article "Juneteenth: The History of a Holiday."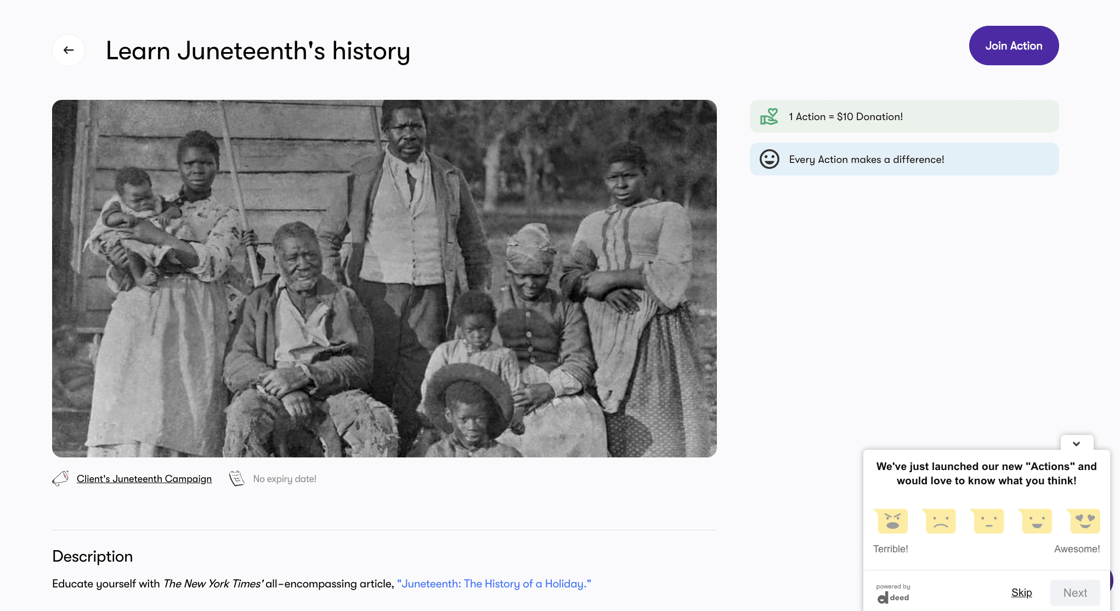 After reading about the past and present of Juneteenth, select "Join Action" in the top right hand corner, where you'll also see that for every one action, your company agrees to donate to a related nonprofit.
How to engage employees on Juneteenth
Many offices throughout the U.S. are closed for Juneteenth, which is now a federal holiday. Whether you want to send a donation match reminder email to wish your employees well on their well-deserved day off or kickstart a meaningful conversation the next day back, social impact leaders should help our community take a moment on or around Juneteenth to reflect on the history of slavery, how far we've come, and how much more work we have left to do.
Deed is an all-in-one social impact platform that helps large, complex global organizations engage employees around both timely days of awareness (e.g., Juneteenth) and enduring causes (e.g., racial equality). To find out how some of the world's most inspiring organizations from Airbnb to lululemon work with Deed to make a difference in our communities, book a demo today.