Deed recognized as leading CSR platform for Spring 2023
Deed is a "Leader" and "High Performer" in good tech according to premiere software marketplace G2's Spring 2023 report.
Introduction
Every year, more than 80 million people visit G2, the world's largest software marketplace, hoping to find the right tech for their organization. As the go-to review site for the likes of Microsoft, Google, and IBM, G2 publishes quarterly reports on category leaders to help software-as-a-service (SaaS) buyers decide what platform meets their needs.
This quarter, we're thrilled to announce that social impact and corporate social responsibility (CSR) leaders around the world have ranked Deed so well that G2 considers us a "leader" and "high performer" among corporate social responsibility (CSR), volunteering, and employee engagement platforms.
Corporate social responsibility

#1 Visualization
#1 Performance
#1 Reporting
#1 Meets requirements
#1 Dashboard
#2 Cloud
#2 Interoperability
#2 Mobility
#3 Ease of use
Ranking deed 5/5 stars this spring, one social impact leader from a <1,000 computer software company said:
"Deed allows employees from all over the world to connect and engage with each other while also making a positive impact in their communities. It's an all-in-one solution for employee engagement and social impact."
— Validated reviewer, computer software industry
Employee engagement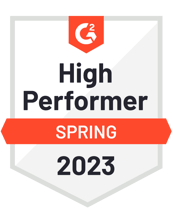 One social impact leader from a computer software company with over a thousand employees also rated Deed 5/5 stars, and they were especially impressed by Deed's capacity for employee engagement. Asked what they liked best about the platform, they said:
"

Great solution, it gives you what you need for your social impact program and it does it simply and intuitively. Great user experience and also a fantastic admin platform to manage your policies, budgets, campaigns, reporting, etc. On top of that, the Deed team is wonderful, very responsive and willing to collaborate. Deed is a growing organization with a brilliant future!

The platform you need to take your employee engagement and social impact programs to the next level"
— Verified current user, computer software industry
Corporate volunteering

#1 Performance
#1 Mobility
#2 Dashboard
#2 Cloud
#2 Reporting
#2 File sharing
#3 Ease-of-use
Dominic Nolan, CSR lead for the U.K. and Ireland at Kyndryl, rated Deed 5/5 stars. When asked what he liked best about the platform, Nolan added:
Deed is so easy to access and use compared to other giving and volunteering platforms I have used. It has a great user interface that is pretty intuitive, but there's also a very good 'Knowledge Hub' if you get stuck. It's also great to know that all of the [nonprofit organizations] that feature on Deed have been vetted.
"Deed makes it easy for employees to give back" — Kyndryl
Awards are great. But the real reward is continuing to serve.
Of the many, many tech review sites on the market today, few have managed to attract the kind of honest, authentic engagement from experienced professionals that G2 has. For that reason, this recognition is a special moment for Deed. To be named a "leader" and a "high performer" by those who truly know the social impact tech space is as validating as it is challenging. Why challenging? Because now the bar for success has been raised another notch higher—and we're determined to reach it.
Deed is a workplace giving and volunteering platform that puts people first, because user experience shouldn't stand between you and doing good. We help social impact and diversity, equity, inclusion, and belonging (DEIB) teams foster genuine human connection by empowering employees to support causes they care about together in-person and online, with the data and insights they need to drive engagement.
Reach out now to learn how the top corporate social responsibility platform can help your employees make a lasting social impact.