Organizations to Support this Pride Month
Happy Pride Month!
Deed is elated to celebrate Pride this June and is committed to supporting the LGBTQ+ community year round. Pride is a month of celebration, acceptance, affirmation and so much more. We're excited to highlight such an impactful collection of organizations where your time and money can impact the lives of LGBTQ+ folks across different geographies, ages, and communities.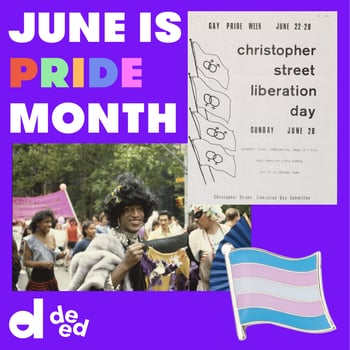 Support: LGBTQ+ communities with Stonewall UK
Stonewall stands for lesbian, gay, bi, trans, queer, questioning and ace (LGBTQ+) people everywhere. They imagine a world where all LGBTQ+ people are free to be themselves and are part of a vibrant global movement for change made up of LGBTQ+ people, their allies, families, and friends.
Stonewall has been around for the last 30 years and has helped create transformative change in the lives of LGBTQ+ people around the globe.
Support: LGBTQ Communities in Rural Areas with Tranzmission‍
LGBTQ+ organizations outside of major metropolitan areas need our love this month! The social and political landscape in more rural areas can make LGBTQ+ folks more vulnerable to discrimination. Additionally, the geographic distance and isolation in rural areas can make organizing more difficult (LGBTMap.org).
This is why Tranzmission and their community of volunteers is so incredibly vital. Tranzmission is dedicated to to improving the lives of nonbinary and transgender people in Western North Carolina, focusing on education, advocacy, support, and disseminating necessary resources. Support them on Deed today!
Support: LGBTQ+ mental health with The Trevor Project & Trans Lifeline
The Trevor Project shared in their most recent survey that 42% of LGBTQ youth seriously considered attempting suicide in the past year, including more than half of transgender and nonbinary youth (Trevor Project). Organizations like The Trevor Project and Trans Lifeline save lives everyday, providing immediate, real-time support with a 24/7 hotline and online resources for LGBTQ+ youth.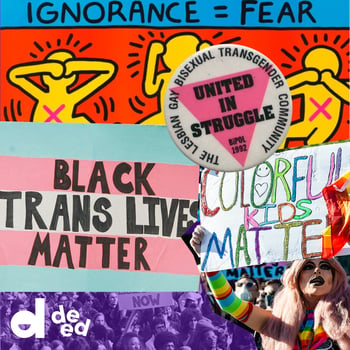 Support: Transgender people experiencing homelessness with National Black Trans Advocacy Coalition & The T Project‍
One in five transgender individuals have experienced homelessness at some point in their lives. The National Black Trans Advocacy Coalition (BTAC) and The T Project both provide safe, supportive spaces for transgender individuals using an empathetic approach guided by first-hand experience. US-based BTAC is the only social justice organization led by Black trans people to collectively address the inequities faced in the Black transgender human experience, and The T Project is Singapore's first and only social service for the transgender community.
Support: Equitable healthcare with Transgender Health and Wellness Center‍
A survey by Lambda Legal revealed that 70% of transgender respondents had experienced serious discrimination in healthcare, highlighting the exceptional degree of anxiety and bias the trans community experiences with healthcare.
Transgender Community Coalition and Transgender Health and Wellness Center are two sister organizations with a similar mission statement as to put the needs of the transgender, intersex, and gender diverse community first. The Transgender Health and Wellness Center offers medical treatment as well as mental health services. The Transgender Community Coalition, offers the supplementary services such as crisis and case management, pet assistance, navigation to health care, and more.
To read more about the causes above, check out some of the resources below:
With each 'Cause of the Month', we strive to cultivate a meaningful conversation and learn how our monthly focus intersects with other cause spaces. We also encourage you to check out the nonprofits we've highlighted as a part of AAPI Heritage Month and Earth Month with our intersectional lens in mind.