How to Grow a Social Impact Platform
Stav Kashi, VP of Product, reflects on 2022: A year of good deeds.
Introduction
Now that the first quarter of 2023 is in full swing—but before jumping into all the new projects and priorities with both feet—it's essential to take a moment to celebrate your accomplishments from 2022. As an individual, as a team, and as a company, there is so much to learn about where you're going by looking back at where you're coming from.
For Deed, our product and engineering teams were working hard to support our corporate and nonprofit partners, their employees, and their purpose-driven work. We also knew we had to grow our own company, and continue innovating in the social impact space.
We revisited the goals we had set for ourselves at the beginning of 2022, and then analyzed each team's accomplishments for the past year. I thought there was a great deal of insight here not just into how Deed grew, but how the product team's new structure—which empowers three agile teams to shape the employee, manager, and nonprofit experiences with autonomy—positioned us to grow the platform in a thoughtful yet comprehensive manner.
Here's what we learned.
A 360° view of how our platform grew in 2022
Employees
For the over one million and counting employees on our platform, our focus was making their experience with our platform easier and more enjoyable so that they could make a bigger impact. We totally overhauled the search experience—a core function of the platform—to make it easier for folks to find, view, and support good causes. We're always improving to that end, and it will remain a core focus in 2023.
I'm particularly excited that we've redesigned and relaunched our native mobile app, which is available as always on iOS and Android, with expanded functionality and much-needed makeover to the user experience. From bringing features that have always been available on the website onto the mobile app and brushing up the design on highly trafficked areas, we hope this update will help more people use Deed in a way that's convenient for them.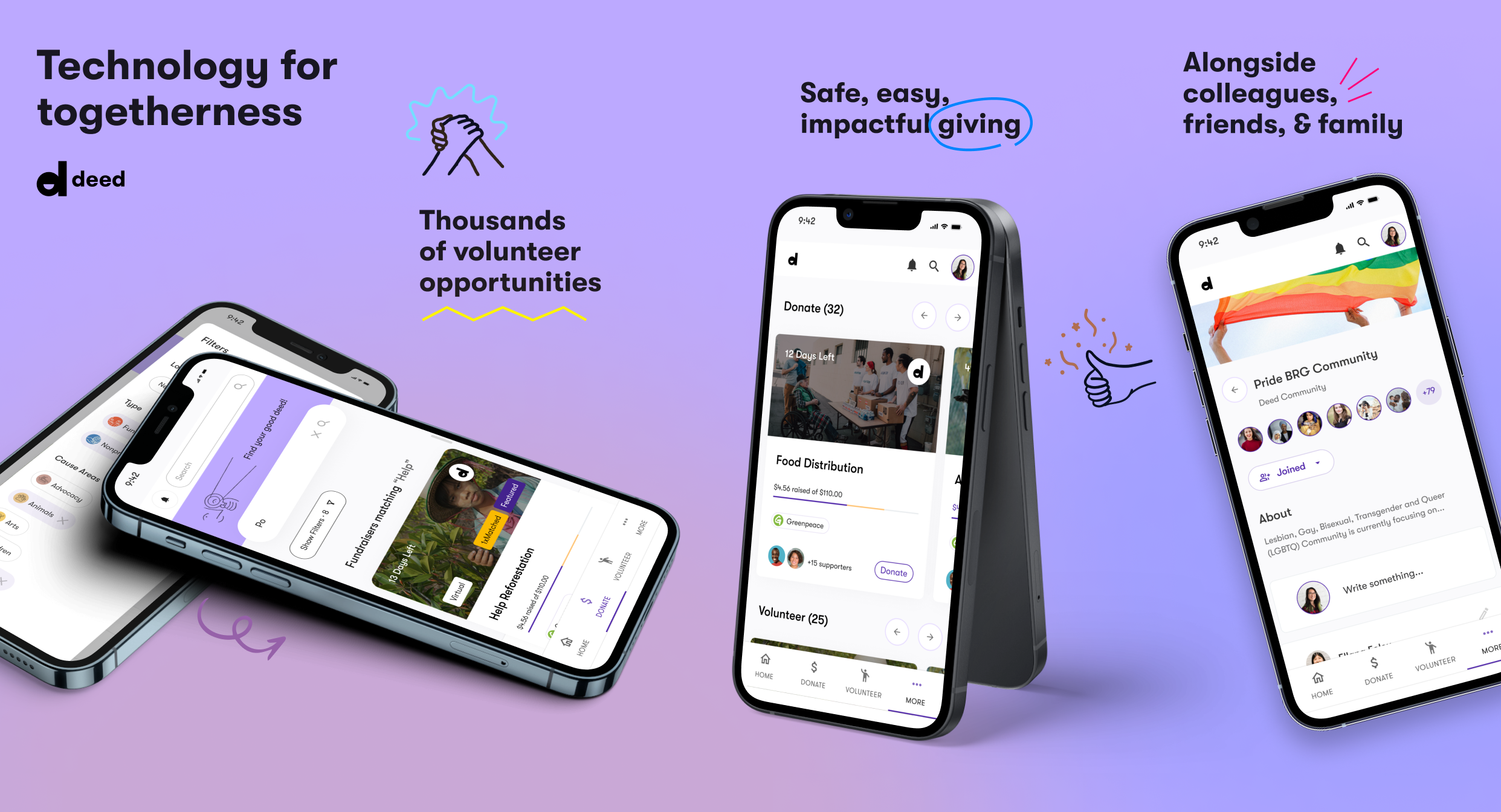 This year, we launched Communities—the new centralized hub for centralized hub for all employee resource group (ERG) programming, volunteer events, fundraisers, social activities, and more. This is a unique way for your teams to come together around shared interests and causes, form genuine bonds through shared interests, and create a more significant impact together. (Look out for the full rollout this year!)
Another important initiative was to make our application more accessible. We conducted a full accessibility audit and made dozens of improvements (including our new accessibility widget) to support our users with specific accessibility needs better and align us with WCAG 2.1 AA standards.
We also greatly expanded our donation payment processing infrastructure to make giving easier and more accessible. With automatic one-time and recurring payroll donation deductions, new payment processors like Stripe and Venmo, and a faster, stronger API integration, we hope more people will find a way to make giving a part of daily life.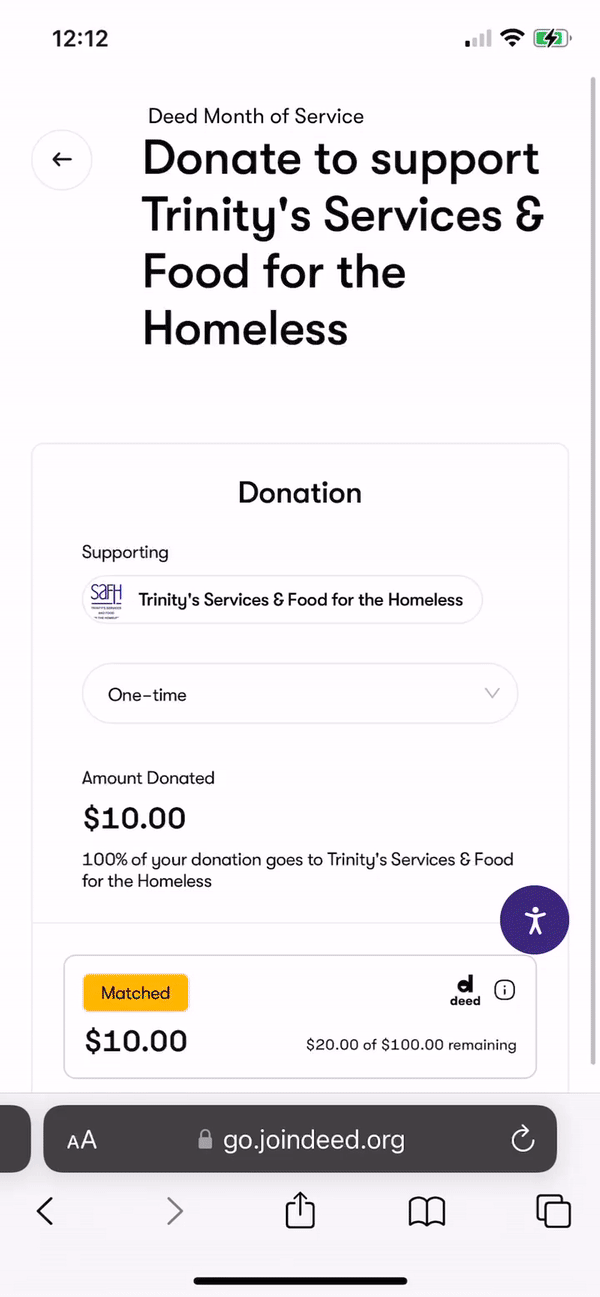 Social impact leaders
For social impact leaders—we sometimes call them "admins," but whatever their titles are these are the folks who head up an organization's efforts around social impact, corporate social responsibility (CSR), and environmental, social, and corporate governance (ESG)—our focus for 2022 was on making program management easier.
From a high level perspective, we gave social impact leaders a more self-serve experience with Deed. We improved their impact measurement capabilities, made the platform more customizable for their organization's branding, and heightened the overall user experience.
Social impact programs are hybrid by definition. Ever make the roll call for a volunteer event by asking your employees for a show of hands? Now you won't have to ask them to complete another step, as admins can sign employees up for volunteer events on the platform themselves.
One highlight on this front is company-branded sites. With a custom URL and branded landing page (for SSO users), your organization now has more opportunities to represent its commitment to social impact.
We've also enhanced what managers can do with campaigns. We know the word "campaign" is intuitive, but just to spell out what it means on our platform, a campaign is a concerted effort to make a difference on a particular cause through giving and/or volunteering. By launching a campaign, Deed partners can centralize giving and volunteering efforts around timely, ad-hoc issues as well as long-term causes. There are now more ways to customize campaigns, and to collect useful data about them through advanced location privilege access, surveys (for volunteers, donors, and nonprofits), and create custom cause areas and ERGs.
Together with the data team, we've revitalized our advanced dashboards to help improve your ongoing analysis and decision-making. With new data views (including employee engagement via donor count [one-time vs. repeat] and first-time logins by user country), smarter benchmarking (comparing time periods), greater variety of visualizations (toggling between chart and table views), and drag-and-drop dashboard customization, social impact data is more useful than ever before.
Nonprofit organizations
Nonprofits are central to Deed, and expanding their experience as well as our global reach has been fundamental to our growth strategy. Thanks to Deed's nonprofit success team, our platform now supports more nonprofits in more countries than ever before—over two million—making it easier for organizations to connect with the volunteers and donors they need to continue doing their important work.
We've also made it easier for nonprofits to engage with the platform. We revamped our "Nominate a Nonprofit" process, improving certain parts and automating others. We also made it simpler to claim your organization's profile while maintaining the highest level of security and transparency.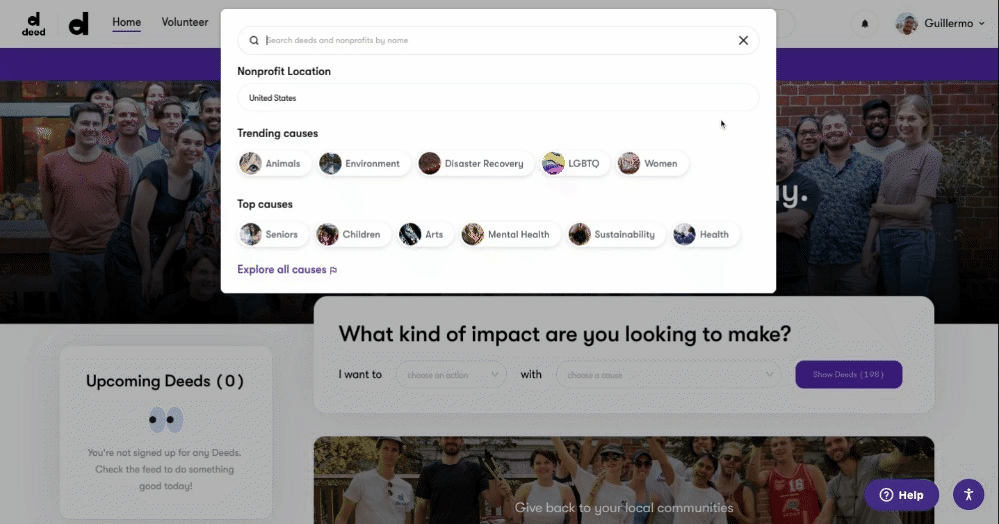 And beyond
The year-long focus on each of these users—employees, social impact leaders, and nonprofits—was an intentional and important choice, one that we will continue to make at every opportunity to ensure everyone who uses Deed has an enjoyable and meaningful experience.
But the core technology that makes all that possible was also a key priority. This year, we invested heavily in our core technological infrastructure. We completely overhauled our various processes to increase the reliability, scalability, security, and performance of our platform. For those same reasons, we also worked with our network of payment processing partners to automate several steps of our donation disbursement procedure.
What do you want to see Deed do in 2023?
It's hard to sum up a whole year in one post, but as you can see, our team kept busy! We are always focused on our mission to exceed all expectations for how technology—by fostering togetherness—can be used for good. We hope our customers and users, and nonprofits feel the impact.
We are proud of our achievements, but most importantly, we're proud of the impact it's had on the community, individuals, our users, and our customers.
As we take time to celebrate our achievements, we also take time to reflect on the lessons of the past year. What are the areas where we can improve, how can we continue to optimize and automate our processes, and what do we want to achieve in 2023?
But it's not just about what we want. Let me ask you, too: What would you want to see Deed do this year? Drop me a line: product [at] joindeed [dot] com.